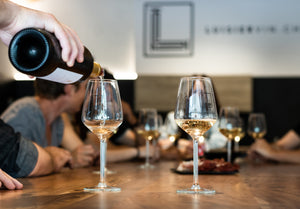 Rookie of Gault et Millau 2024!
The Gault et Millau jury was won over by our wines! An incredible result, which once again proves the high quality of our wines.
FOLLOW US ON INSTAGRAM TO KNOW ALL LUISIER NEWS!
★★★★★

Very well received and very good wines and the new tasting room is magnificent
★★★★★

Tasting day to do absolutely! Wine tasting directly in the vineyards with explanations at the top!
Thanks Clement!
★★★★★

Excellent wines, excellent service, fast deliveries, competent team...in short, great

★★★★★

I received my order and the boxes are beautiful and your products are excellent. Happy New Year to all your team.
Discover La Cave Luisier Vin Saillon and its prestigious wines, made in the heart of the Swiss Alps. From our passion for the creation of great wines, we produce wines intended to make your taste buds vibrate with pleasure.
The Luisier Vin Saillon cellar
Located in the upper Rhône valley, the vineyard Luisier Vin Saillon reigns in the heart of the canton of Valais. Our vines, located between Saillon and Leytron, are surrounded by a deliberately rich biodiversity. Therefore, concerned about our environment, part of our farm is certified Bio Suisse. But above all, our vines are bathed in sunshine nearly 300 days a year, thus giving birth to fabulous Valais wines. If the production of grapes is not new in our family, the vinification of this one is more recent. Started in 2018, our wine adventure is driven by an authentic passion as well as a thirst for oenological innovation.
Exceptional grape varieties!
There Cave Luisier Vin Saillon offers you an exclusive selection of white and red wines as well as a superior rosé. Our wines, elaborated with ardor, come for some from grape varieties originating in Switzerland, such as Chasselas, Syrah, even Arvine. For others, we have opted for essential French grape varieties such as Gamay, a native of Beaujolais, or the illustrious Pinot noir Bourguignon. Wishing to make you live a unique experience, each year, we assemble for the greatest pleasure of your palate, a new vintage.
Our passion at your service
As a passion is never lived alone, we invite you to come and discover our best Swiss wines. Comfortably installed in our recent carnotzet, you can taste our latest wines. For a complete immersion, our cellar also opens its doors to you. A glass of good wine in hand and in a friendly atmosphere, you will discover our universe. Several options are available to you, from simple tasting to a more gourmet formula.